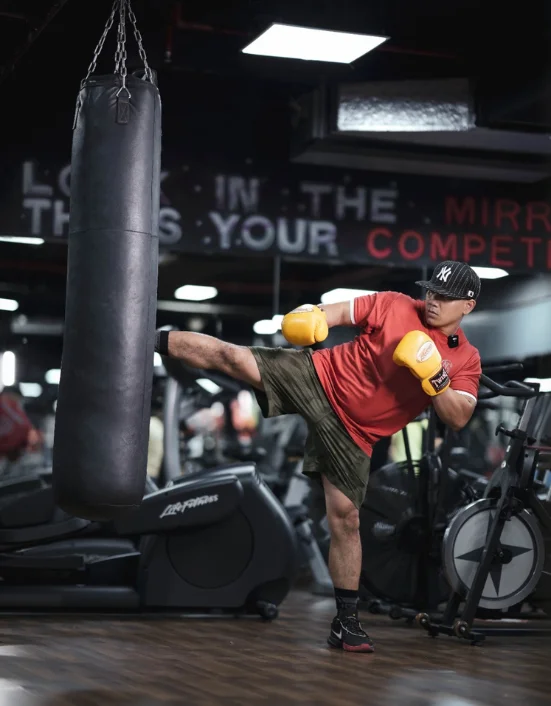 At Nitro Gym, we offer top-notch kickboxing services designed to help you unleash your inner warrior and achieve your fitness goals. Our experienced instructors are passionate about kickboxing and are here to guide you on your journey towards strength, skill, and confidence.
Apricot Towers – 101 – Dubai Silicon Oasis – Dubai
Experienced instructors at Nitro Gym will guide you through proper kickboxing techniques, footwork, striking combinations, and defensive maneuvers. Whether your goals are to improve fitness, learn self-defense, or compete in kickboxing, our classes will provide a challenging and inspiring experience.
If you prefer one-on-one attention, Nitro's kickboxing personal training sessions are perfect for you. The skilled trainers will tailor the sessions to specific goals, focusing on technique refinement, strength and conditioning, and individualized skill development. Benefit from personalized guidance and achieve rapid progress in your kickboxing journey.

Experience the high-intensity workout of kickboxing with our fitness-focused classes. These sessions combine elements of traditional kickboxing with cardio exercises to provide an intense full-body workout. Burn calories, increase your stamina, and improve your overall fitness level while having a blast.
If the members are interested in competitive kickboxing, the experienced coaches will provide specialized training programs to prepare you for the ring. From honing your striking skills to developing fight strategy, the trainers will help you unleash your potential and perform at your best.
Nitro offers kickboxing programs specifically designed for children and teenagers. The experienced instructors will teach them the fundamentals of kickboxing in a safe and supportive environment. Kids will learn discipline, self-confidence, and respect while improving their coordination, balance, and overall fitness.
Enhance kickboxing skills and fitness level with Nitro's kickboxing conditioning classes. These sessions focus on strength and conditioning exercises specific to kickboxing, improving power, speed, agility, and endurance. Elevate the performance and take your skills to new heights.
Join a vibrant and supportive community of kickboxing enthusiasts at Nitro Gym. Connect with like-minded individuals, share experiences, and foster a motivating atmosphere. Train alongside fellow kickboxers, push each other to new achievements, and celebrate your progress together.
body sculpting
build your strength